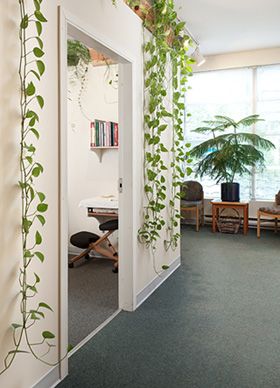 We have been serving the Yaletown area for almost 15 years with a highly trained group of practitioners, all of whom are registered with the College of Massage Therapists of British Columbia.  Our clean and relaxing atmosphere will help you focus on your physical rehabilitation without distraction.
Our therapists are well versed in all types of conditions and injuries.  They bring expertise and experience to your sessions.  We understand that your comfort is paramount to the massage therapy process and we therefore offer both male and female therapists.  We also offer pre, mid and post-natal care for your growing family.
Raincoast Therapeutic is conveniently located at 1049 Cambie Street at the southwest corner of Cambie and Nelson Streets, in the heart of Yaletown.  We offer complimentary showers and parking (depending on availability).
I've been going to Raincoast Therapeutic for a few years now. Joseph is a great RMT, always considerate and caring. I would definitely recommend him and his colleagues for any back related issues or other conditions that massage therapy can help.